Canton City
Public Health
James M. Adams, RS, MPH
Health Commissioner
Health Commissioner
James M. Adams
Health Commissioner
CONTACT US
330-489-3231
330-489-3335 fax
Hours: Monday - Friday
8:00 a.m. - 4:30 p.m.
(Excluding holidays)

Office Address
Canton City Public Health
420 Market Avenue, North
Canton, OH 44702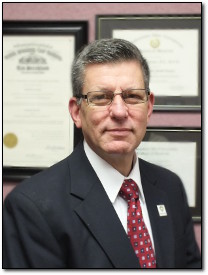 James M. Adams was appointed Canton City Health Commissioner in 2008 after serving the city as Director of Environmental Health. Commissioner Adams is experienced in the development, implementation and management of various public health programs. He has broad knowledge in environmental health, public health, industrial hygiene, epidemiology and public health management. He is a Registered Sanitarian and prior to moving to the Canton area, he gained experience with Lorain County Board of Health in Elyria, Ohio and Ohio Department of Health in Akron, Ohio. Commissioner Adams oversees the operations of five divisions and nearly 60 staff members within the Health Department. He also serves as Registrar for the Vital Statistics Division within the department.
While serving the city, Commissioner Adams has been trained in Hazmat Response Operations by the US Environmental Protection Agency, and Healthcare Leadership and Administrative Decision Making in Response to WMD Incidents by the US Department of Homeland Security. He is a 2008 graduate of Leadership Stark County, Government Class.
In addition to his responsibilities as Commissioner, Mr. Adams serves in professional roles including Past President of the Association of Ohio Health Commissioners and Past President of the Ohio Environmental Health Association. In 2009, he was appointed by Governor Ted Strickland to serve as a member of the Ohio State Board of Sanitarian Registration. Currently, he is Chairman of this organization. Commissioner Adams served on the Ohio Public Health Services Study Committee which ultimately developed the "Five Point Plan for Improvement of Public Health in Ohio." In 2000, 2002 and 2003 he traveled to L'viv, Ukraine as a member of a four-person group representing American International Health Alliance to identify potential partnership programs in the area of environmental health and health promotion. In this endeavor, he continues to foster professional relationships with various physicians and health care professionals in the L'viv region of Ukraine.
The Ohio Environmental Health Association has awarded Commissioner Adams the Northeast District Outstanding Sanitarian Award (1992) and the President's Award (1996). He received a Certificate of Appreciation from the US Postal Service for service during the anthrax attacks of 2001.
He supports the community as a Past President of the Perry Adult Cross Country Booster Club, a Community Representative for Stark County Head Start Policy and Governance Board, a member of Stark County Emergency Management Agency Advisory Committee, and Trustee for Stark County Family Council.
Commissioner Adams holds a Bachelor of Science degree in Environmental Health from Cleveland State University and a Master of Public Health degree from the University of Michigan.